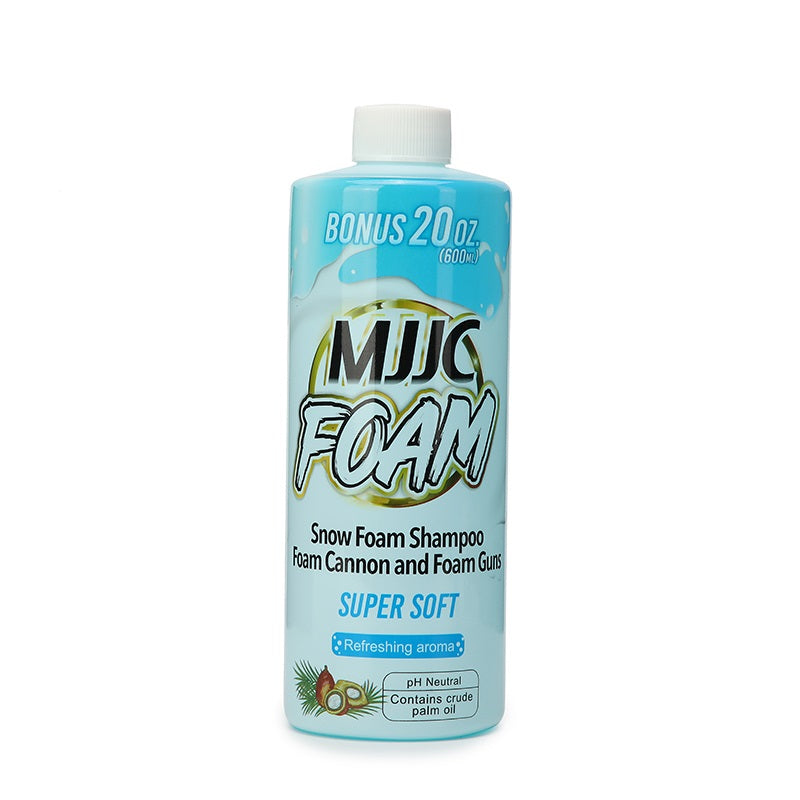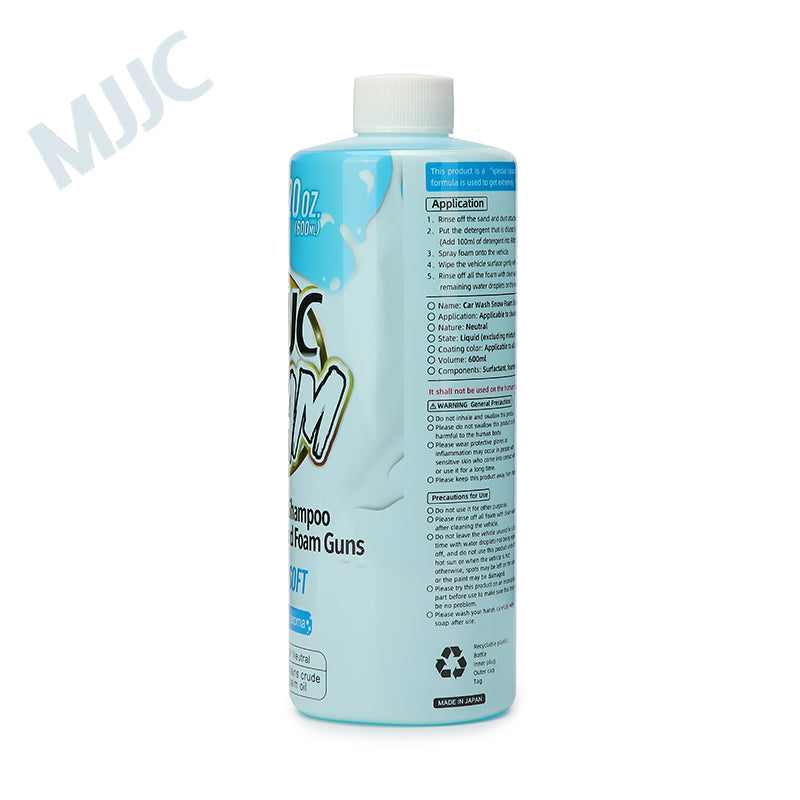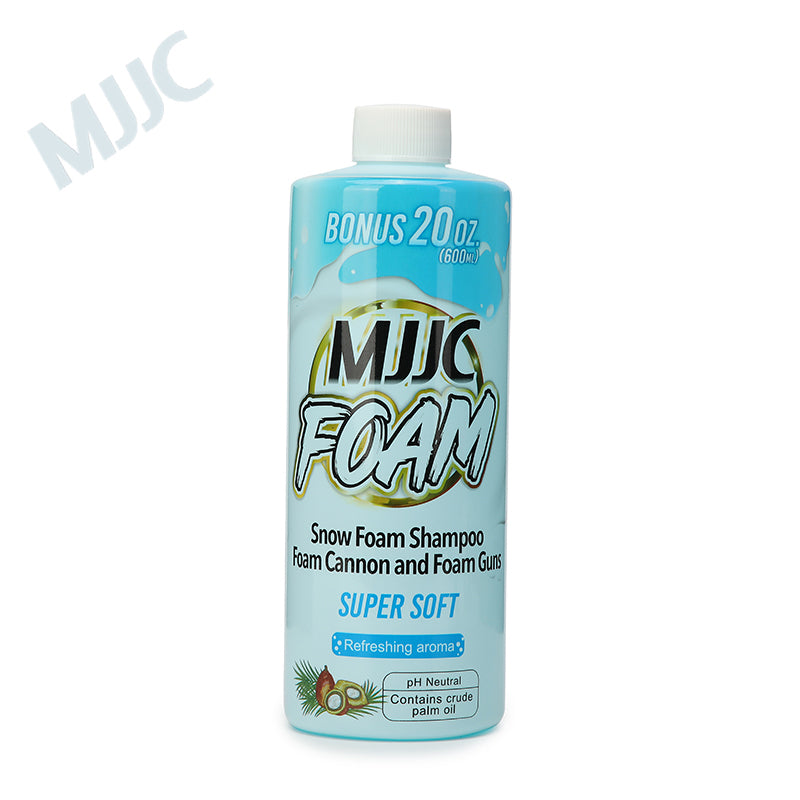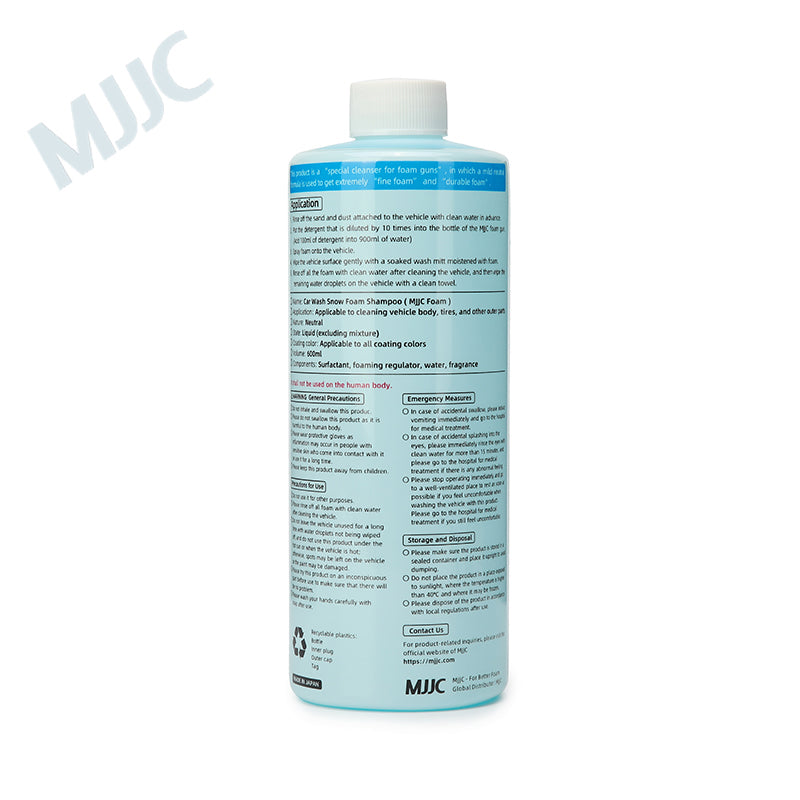 MJJC Foam - Premium Snow Foam Shampoo for Foam Cannon and Foam Guns
Features:
Applicable to all coating colors and coated vehicles.
Refreshing cider aroma.
Contains crude palm oil.
pH Neutral.
Super Thick Foam.
Super Stay Power, Stays on Paint Long.
Super Soft, Smooth and Slick.
Super Easy to Rinse Off.
No Water Spots. No Residuals.
Super Easy to Fill into Foam Cannon.
No need of Shaking.
With an inner lid to make it less possible to leak out.
Specifications:
○ Name: Car Wash Snow Foam Shampoo (MJJC Foam)
○ Application: Applicable to cleaning vehicle body, tires, and other outer parts
○ pH: Neutral
○ State: Liquid (excluding mixture)
○ Coating color: Applicable to all coating colors
○ Volume: 600ml
○ Shampoo/Water Mix Ratio for Foam Guns: 100ml shampoo/900ml water (3 ounces shampoo/30 ounces water)
○ Shampoo/Water Mix Ratio for Bucket Wash: 50ml shampoo/20L water (2 ounces shampoo/5 gallon water)
○ Recycable Components: Bottle, Inner Lid, Outer cap, Label.
No Doubt The Best
This is by far the best foam cannon on the market! Just get one and I guarantee that you won't ever buy a different brand again.
Shampoo MJJC
Excellent product, with a neutral ph for maintenance of ceramic products, pleasant aroma, and thick and consistent foam. the best on the market. Excellent price-quality ratio.
good percentage of dilution.
MJJC Foam - Premium Concentrated Car Wash Snow Foam Shampoo for foam cannon and foam guns 600ml
Excellent Soap & Great Value for the Money!
I used this in conjunction with my Sunjoe pressure washer and foam cannon and ended up with great results. The cannon dispensed thick, long lasting foam with an unoffending tropical scent. I added 50ml of soap to 500ml of water on my first try and will see if adding a bit more soap can net some thicker foam. Definitely happy with the way the car came out after using this, looking forward to using it again!